In the next season "Eden: Dissidia," two new elements will be added: Guild skills and season techs. We discussed Guild skills in the last post. Today, we'll be looking at season techs.
Where Are Season Techs?
Go to Eden. Tap "Institute" to see season techs.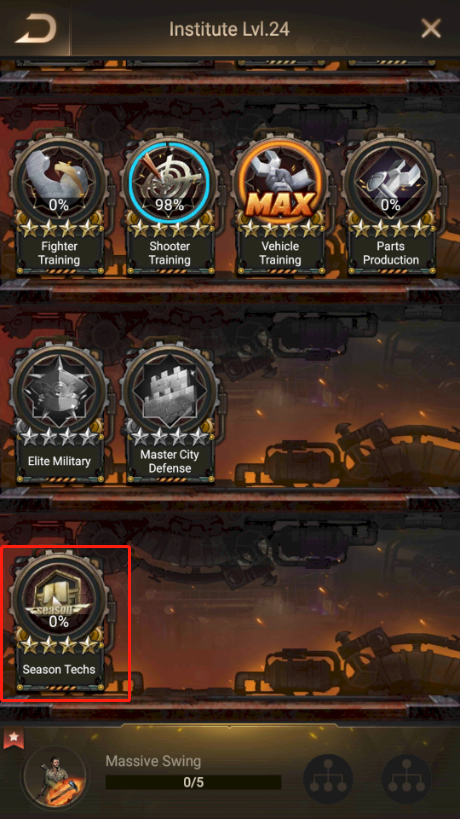 When Effective?
They are only effective for Commanders in Eden during the season. If exiting Eden, you will not be able to have the buffs of season techs. Upon the end of the season, season techs will disappear.
Cost
Rare-Earth Elements and other resources are required to upgrade season techs.
The Rare-Earth Elements can be obtained in the Doomsday Shop, quests and packs.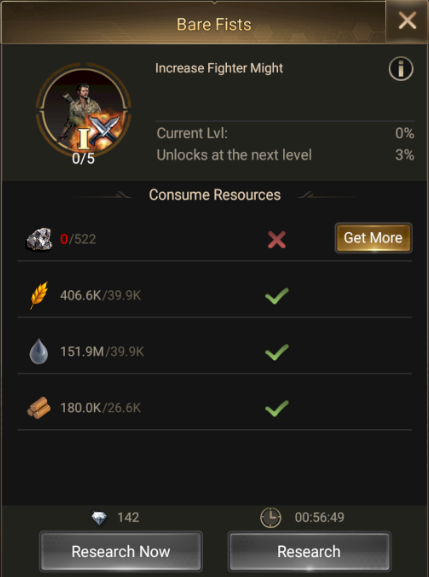 Season Techs
There're 34 season techs in total, with 10 for combat and 24 for development.
They can be used to increase the Might of Fighter, Shooter and Vehicle, resource production rate, Processing Speed and territory cap. Use season techs smartly to gain an edge in the battle.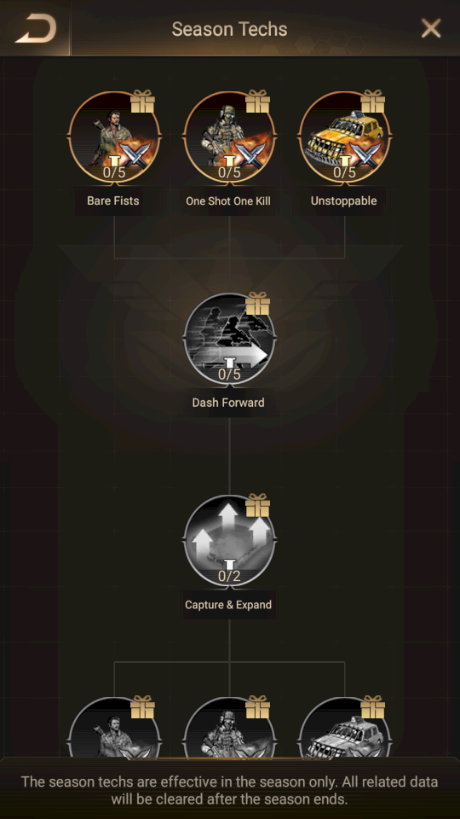 Some Techs and Their Effects
Rare Earth Research
Reducing the Rare-Earth Elements required to upgrade season techs (Effective in season only)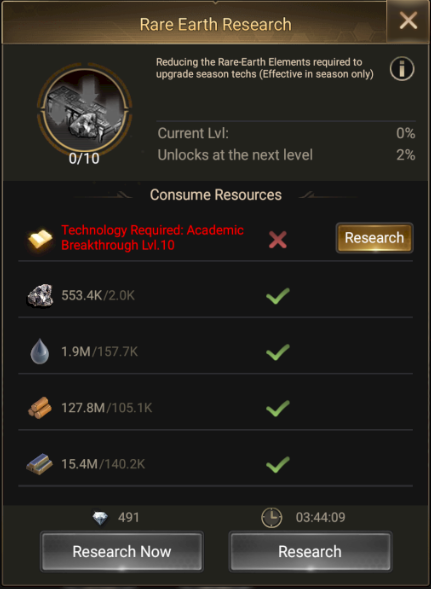 Capture & Expand
Increasing the max amount of Territories that can be occupied (Effective in season only)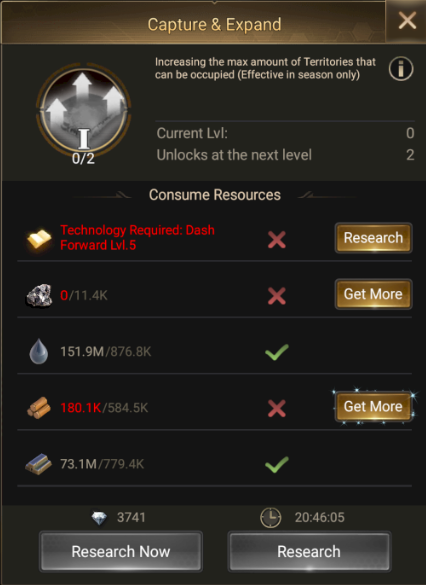 Best Deployment
Increasing the share of soldiers with minor injuries in territory battles (Effective in season only)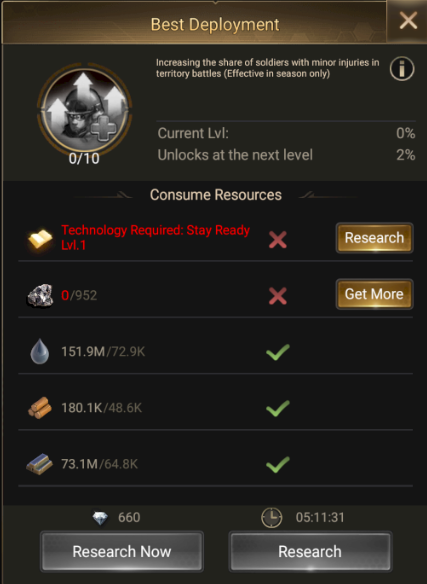 Elite Troop
Increasing all troops' Damage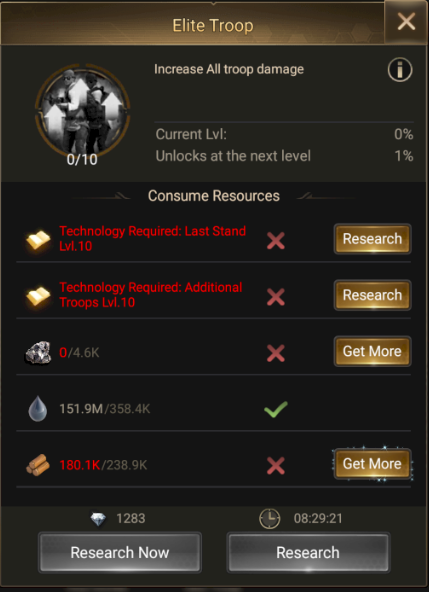 First Aid Kit
Reducing the resources and time required to heal T10 soldiers (Effective in season only)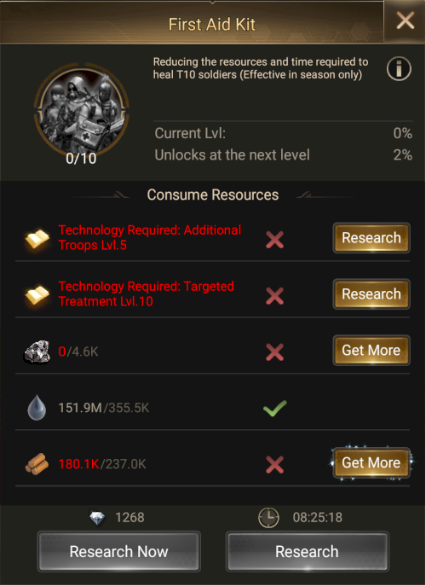 Reserve Force
Able to build an extra Barrack (Effective in season only)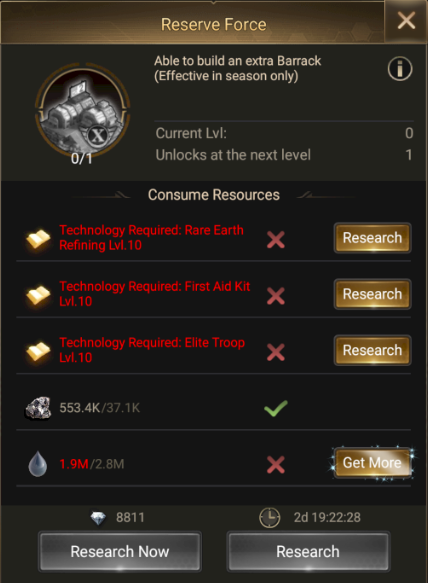 Recommended Combo (Personal suggestion only)
Major Branch
Sprint Forward → Last Stand → Open Recruitment → Full Support
Sub Branch
Pollution Solution → Rare Earth Purification → Capacity Optimization → Rare Earth Exploration (to boost the output of Rare-Earth Elements and resources, and the Processing Plant's output)
Solid Defense → Heavy Blow (to boost the Siege Defender Might and Resistance)
Academic Breakthrough → Rare Earth Research (to reduce the cost of resources and Rare-Earth Elements in season tech researches)
Starting from "Full Support," it's further divided into 3 branches:
Smart Treatment → Targeted Treatment → First Aid Kit (to reduce the resources needed in soldier healing)
Landlord → Unbreakable → Additional Troops → Elite Troop (to increase territory cap, Base Durability, max soldiers deployable and Might)
Rare Earth Exploration → Rare Earth Refining → Highly Efficient (to increase the production rate and Processing Speed of Rare-Earth Elements)
Although season techs will be cleared upon the tally phase of the season, they can offer you some Doomsday Silver. It can be exchanged for many useful stuffs at the Doomsday Shop.
There will be more goods in the Doomsday Shop for you to exchange.
Please note that all season techs are only effective in season States, and are NOT effective in your original State, Operation: Oblivion or Champion Duel.
Wish you good luck in the next season and have satisfactory performance!
(*Please refer to the in-game content for final info.)